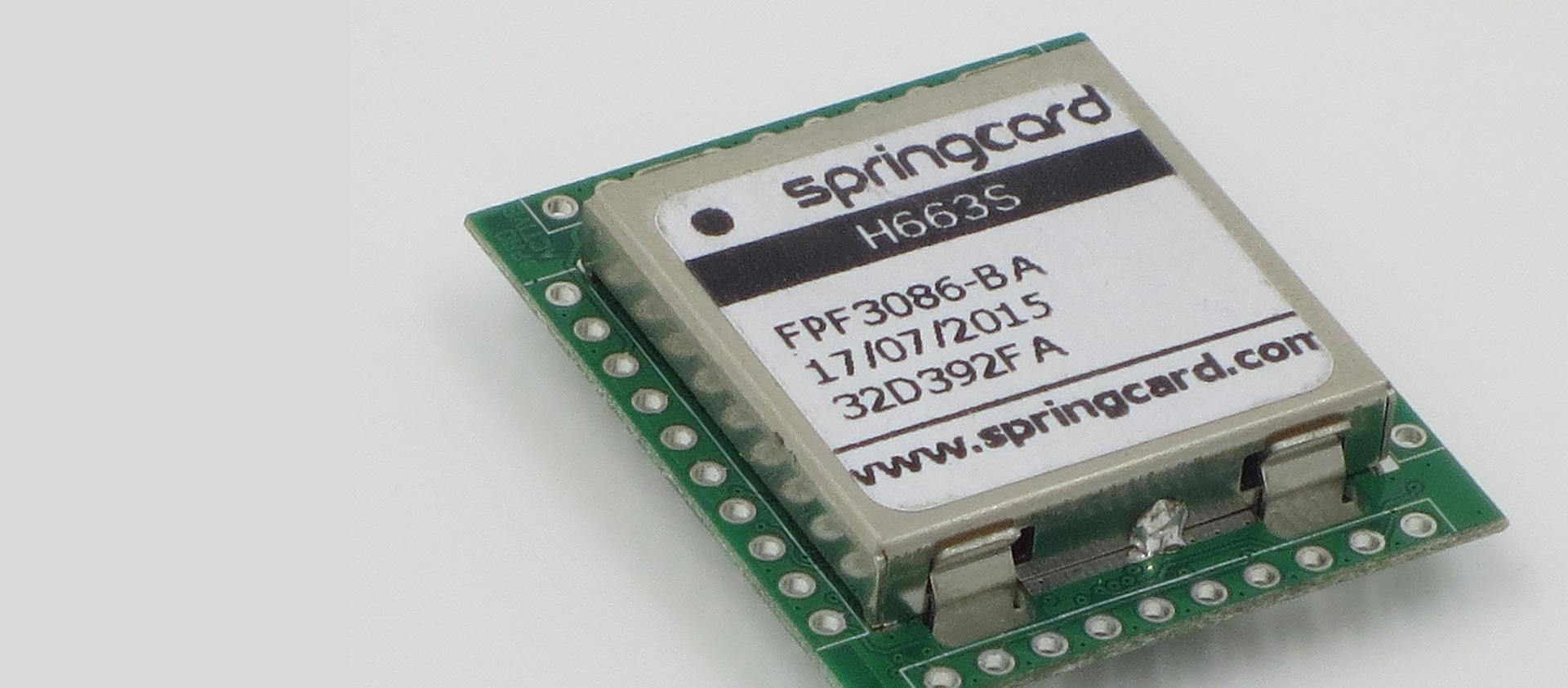 The H663 module is designed to be the core of a 13.56MHz reader/writer communicating with a host (computer or embedded system) supporting the PC/SC standard.
The H663 module needs to be associated with one of the SpringCard's portfolio antennas or a custom-made one, according to your size constraints or the type of tag to support.
The H663S is designed to be associated with balanced antennas.
The H663A is designed to be associated with 50Ω unbalanced antennas.
See an example of integrating the H663 module: in printers.
Order codes: H663S: SC14182 / H663A: SC14184 / H663S/RDR:SC13115
DISCOVER PC/SC
Introduction to PC/SC and ​Quickstart for PC/SC
FIRMWARE UPGRADE
Link to Firmware Upgrade here.
KEY FEATURES
High-integrated PC/SC USB solution
Between 1 and 5 contact card slots ('SC' and 'AC' versions)
Custom antenna possible

4 LED outputs

1 buzzer output

4 GPIOs

1 I2C master port
RoHS & WEEE compliant (environmental protection)
Standards
Carrier frequency: 13.56MHz

ISO 14443 (1, 2, 3 and 4, both type A and type B): Proximity Coupling Device (PCD)

ISO 15693 (1, 2, 3): Vicinity Coupling Device (VCD) or Base Station for RFID labels and tags

ISO 21481 (ECMA 352): the device is able to communicate with any NFC object running in card emulation mode

ISO 18092 / NFC peer-to-peer (initiator, passive communication mode only)

Coupler's firmware embeds T=CL protocol (ISO-DEP), 256-byte frames
RF Bitrate
106, 212, 424 or 848kbit/s (ISO 14443, NFC-A & NFC-B), 212 or 424kbit/s (FeliCa, NFC-F), 26kbps (ISO 15693, NFC-V)
Supported cards/tags/labels
ATMEL CryptoRF

ASK CTS256/CTS512

Calypso (CD97, CD21, GTML, etc), Innovatron radio protocol "14443 B'"

FeliCa Lite, Lite-S (NFC Forum T3T)

HID iClass, Inside PicoTag (UID only)

Infineon SLE66 family

Innovision Jewel, Topaz (NFC Forum T1T)

NXP Mifare UltraLight, NTAG (NFC Forum T2T), Mifare Classic, Mifare Plus, Desfire, SmartMX...

NXP ICODE-SLI family

ST MicroElectronics SR, SRI, SRIX families

ST MicroElectronics LR family

Texas Instrument my-d proximity

Texas Instrument my-d vicinity

Thinfilm NFC Barcode

APDU interpreter, giving easy access to memory contactless cards (NFC Forum Tags, Mifare, ICode and others) through classical READ BINARY and UPDATE BINARY commands
Antenna
'S' version: balanced integrated antenna

'A' version: unbalanced integrated antenna
Host interface
USB 2.0 full-speed (12Mbit/s), compliant with USB 1.1 and 3.0

PC/SC v2 compliant - USB CCID profile

PC/SC driver for Windows Vista/7/8/10 (32 and 64 bits)

Supported by PCSC-Lite open-source PC/SC stack and driver on Linux and Mac
Software integration / development
Free SDK and sample software for PC/SC couplers
Firmware upgrade
In-field, no physical action on the device using SpringCard FUU application and Atmel USB DFU driver
Smart card
Possible option to support ISO 7816 cards through external multiplexer (NXP TDA8026)