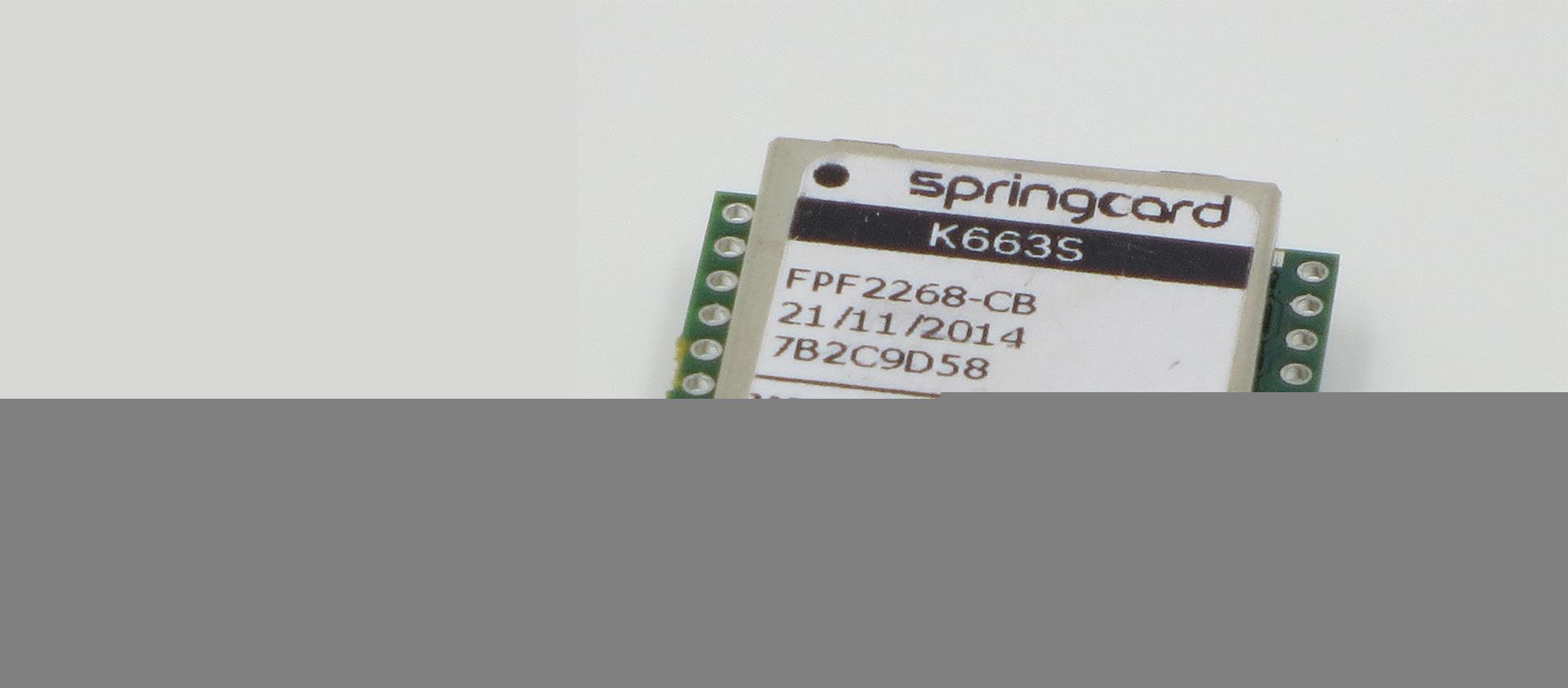 The K663/RDR module is a 'smart reader' -the device combines a coupling device and an embedded application software-. If needed, you will find some more information about smart readers here.
The module formats a number or an ID that is consistent with the host system's expectations. When the transaction involves a card with cryptographic security (Mifare Plus, Desfire), the module is also able to get authenticated (3DES or AES) and to read the data in an encrypted communication.
The K663/RDR module must be associated with an antenna from SpringCard's portfolio or a custom-made antenna, depending on the project's constraints (operating volume, size of the cards or tags to be processed).
Designed to be easily integrated, the K663/RDR requires only a single 3 to 5V power supply, and supports in-field firmware upgrade. Communication with host is made with a RX/TX serial link at TLL level (0-5V) and is CMOS-tolerant (0-3V). Thanks to the Low Power Card Detection (LPCD) mode, the K663/RDR can be used even in power-constrained systems.
The K663/RDR S version must be associated with balanced antennas. The K663/RDR A version must be associated with 50Ω unbalanced antennas.
KEY FEATURES
RoHS & WEEE compliant (environmental protection)
Standards
Carrier frequency: 13.56MHz

ISO 14443 (1, 2, 3 and 4, both type A and type B): Proximity Coupling Device (PCD)

ISO 15693 (1, 2, 3): Vicinity Coupling Device (VCD) or Base Station for RFID labels and tags

ISO 21481 (ECMA 352): the device is able to communicate with any NFC object running in card emulation mode
RF Bitrate
106kbit/s (ISO 14443, NFC-A & NFC-B), 212 or 424kbit/s (FeliCa, NFC-F), 26kbps (ISO 15693, NFC-V)
Supported cards/tags/labels
ASK CTS256/CTS512

ATMEL CryptoRF

Calypso (CD97, CD21, GTML, etc), Innovatron radio protocol "14443 B'"

FeliCa Lite, Lite-S (NFC Forum T3T)

HID iClass, Inside PicoTag (UID only)

Infineon SLE66 family

Innovision Jewel, Topaz (NFC Forum T1T)

NXP Mifare UltraLight, NTAG (NFC Forum T2T), Mifare Classic, Mifare Plus, Desfire, SmartMX...

NXP ICODE-SLI family

ST MicroElectronics SR, SRI, SRIX families

ST MicroElectronics LR family

Texas Instrument my-d proximity

Texas Instrument my-d vicinity

Thinfilm NFC Barcode

4 processing templates to fetch data from the cards (UID, stored data, APDU response...)

Low power card detection mode (LPCD) to reduce power consumption while waiting for a contactless card
Antenna
'S' version: balanced integrated antenna

'A' version: unbalanced integrated antenna
Host interface
Serial - 38400 or 115200bps
Software integration / development
Free SDK for SpringCard access control readers
Firmware upgrade
In-field, no physical action on the device using SpringCard FUU application (provided that the RESET pin is controlled by the host)
Configuration
In-field configuration using secured "master cards"