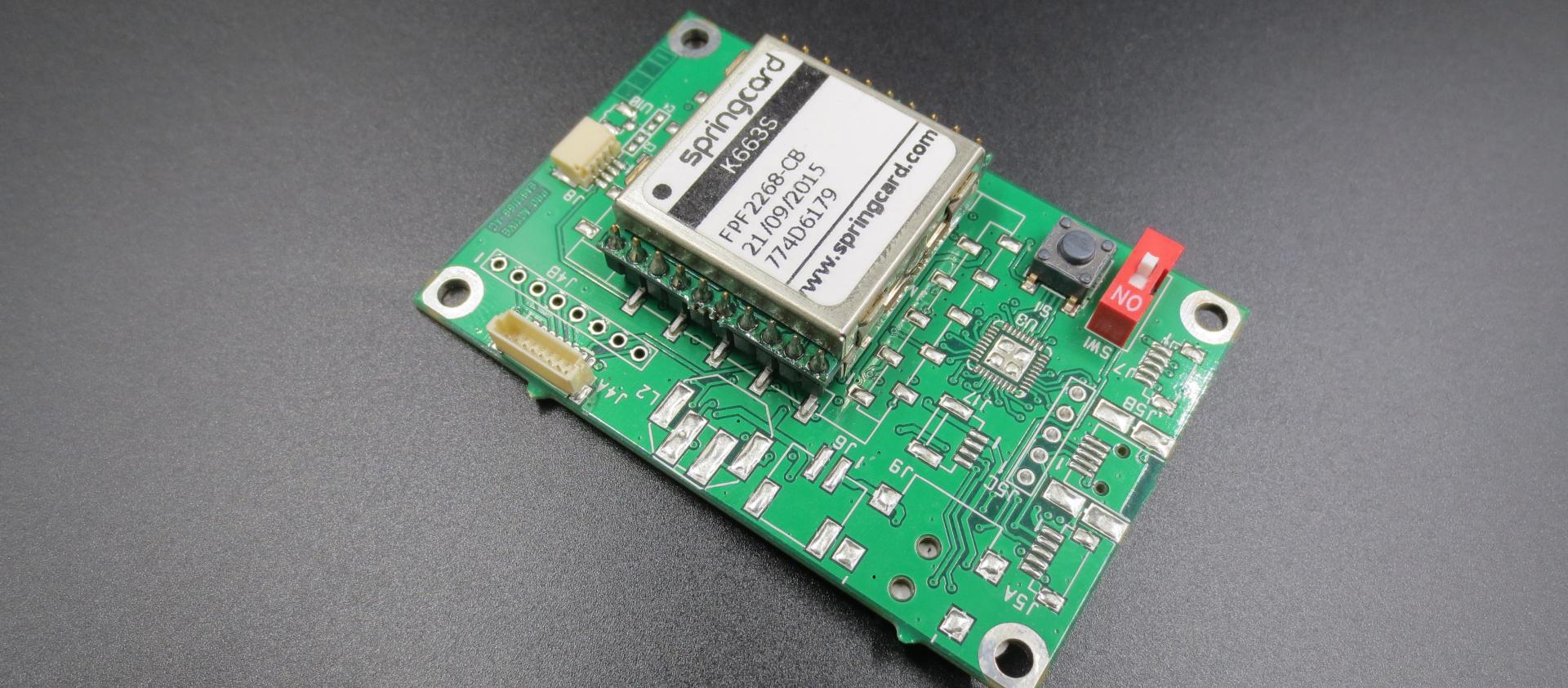 TwistyWriter (TTL, 232 or 485)
Serial interface contactless reader (coupling device), remote antenna
The SpringCard TwistyWriter-TTL, TwistyWriter-232 and TwistyWriter-485 are based on the K663 module. Communication with host is a serial link, depending on what you need:
TwistyWriter-TTL: RX/TX serial link at TTL level (0-5V), CMOS tolerant (0-3V)
TwistyWriter-232: RX/TX serial link at RS-232 level (EIA 232 : -6/+6V)
TwistyWriter-485: RS-485 (EIA 485) half-duplex serial link
The modules measure 69x45mm and need a symmetric (balanced) antenna depending on your size constraints and on the type of tag to support. Have a look in our antennas portfolio or ask for a custom-made one. Your SpringCard contact will also guide you to the ribbon cable you need.
Here is the presentation of the TwistyWriter TTL, 232, 485 in video.
Standards
Carrier frequency: 13.56MHz

ISO 14443 (1, 2, 3 and 4, both type A and type B): Proximity Coupling Device (PCD)

ISO 15693 (1, 2, 3): Vicinity Coupling Device (VCD) or Base Station for RFID labels and tags

ISO 21481 (ECMA 352): the device is able to communicate with any NFC object running in card emulation mode

ISO 18092 / NFC peer-to-peer (initiator, passive communication mode only)

Coupler's firmware embeds T=CL protocol (ISO-DEP), 256-byte frames
RF Bitrate
106, 212, 424 or 848kbit/s (ISO 14443, NFC-A & NFC-B), 212 or 424kbit/s (FeliCa, NFC-F), 26kbps (ISO 15693, NFC-V)
Supported cards/tags/labels
ATMEL CryptoRF

ASK CTS256/CTS512

Calypso (CD97, CD21, GTML, etc), Innovatron radio protocol "14443 B'"

FeliCa Lite, Lite-S (NFC Forum T3T)

HID iClass, Inside PicoTag (UID only)

Infineon SLE66 family

Innovision Jewel, Topaz (NFC Forum T1T)

NXP Mifare UltraLight, NTAG (NFC Forum T2T), Mifare Classic, Mifare Plus, Desfire, SmartMX...

NXP ICODE-SLI family

ST MicroElectronics SR, SRI, SRIX families

ST MicroElectronics LR family

Texas Instrument my-d proximity

Texas Instrument my-d vicinity

Low power card detection mode (LPCD) to reduce power consumption while waiting for a contactless card
Host interface details for all versions
Serial - 38400 or 115200bps

SpringProx binary or ASCII protocol
TTL version Host Interface
TTL / CMOS compliant (0-5V or 0-3V)
232 version Host Interface
485 Version Host Interface
RS-485 (differential - bus)
Software integration / development
Free SDK featuring 'SpringProx API' (full ANSI C source code+ binary for Windows and Linux)
Connectors
8-pin JST SHR (serial link)

4-pin JST SHR (balanced antenna)
Firmware upgrade
In-field, no physical action on the device using SpringCard FUU application (provided that the RESET pin is controlled by the host)
User manuals
Development manuals
SDKs & tools for developers
Hardware Integration
Utilitaire
Softwares