Everything there is to know about the NXP cards !
Microcontrollers and Memory cards
For your NFC/RFID project you will be able to choose between several contactless cards… Depending on your needs, your learning capability in terms of development time but also your preference for a ready-to-use solution or something more progressive, the card that you will choose won't be the same.
We are going to introduce you the NXP products that could fit your expectations.
There are a lot of card families but before introducing them, it is important to notice two things.
The first thing is that it exists more than 400 different types of high frequency cards (at 13.56MHz including a wide range of NFC tags).
The second one is that it exists a fundamental difference between microcontrollers cards and memory cards.
Microcontrollers cards (or smartcard) offer a really high level of security in return they are more expensive and more complex to implement than memory cards. Memory cards (or wired-logic cards) can store data in a more or less structured memory with a variable level of security. They also consume less than microcontrollers cards and can be easily adapted to smaller shapes than a card like a bracelet, a keyholder, a ring, etc…
The NXP cards
NXP is the leader of the contactless cards market. Previously called Phillips Semiconductors, NXP has created the contactless cards brand MIFARE® which became the major brand of the market.
The norm ISO 14443 type A has been written from these cards characteristics and this technology. In this product range there are 4 main families of cards: MIFARE Classic®, MIFARE Plus®, Ultralight and MIFARE DESFire®.
The MIFARE Classic® is the first generation of memory cards and should not be used in your projects because of its security breaches. It is replaced by the MIFARE Plus®.
The MIFARE Plus® allows you to store from 2 to 4ko data depending on versions. The memory is divided in areas that can be secured thanks to two AES keys.
The MIFARE DESFire® is a microcontroller card. Its memory (up to 8ko) is non structured at delivery, you will need to create a system of files and directories to store its data before using it.
The solution architect has an important freedom on its security policy with several AES or 3DES keys by directory.
The range entry is ensured by the memory card MIFARE Ultralight that never stores more than a dozen byte and does not provide security. This card is sufficient for NFC RFID identification application, where the operation of the system lies on a database and not on the tag itself.
NXP also offers NTAG. These are evolutions of the MIFARE Ultralight with more capacities. They are designed for NFC Forum tag implementation.
Still at NXP the ICODE family is composed of memory cards on the ISO 15693 norm.
Compared to the ISO 14443 norm, the ISO 15693 norm is slower, but consume less which allows hands free reading applications.
Our SpringCard readers are able to read all of these cards types as well as all the non proprietary communication protocols.
In a another article we will introduce you to all the alternative cards to NXP cards !
Our partners guarantee the authenticity of MIFARE cards.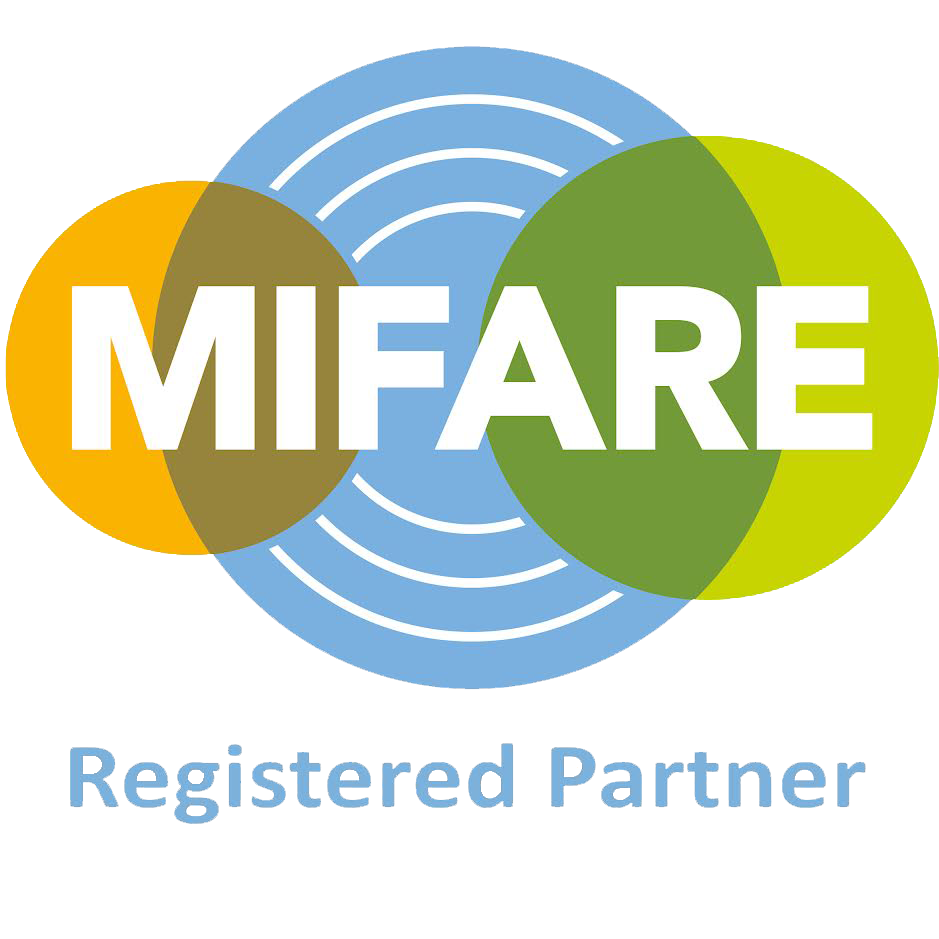 Published on 11/06/2018