Prox'N'Roll RFID Scanner HSP
Desktop USB 'smart reader' for contactless/RFID/NFC cards
The Prox'N'Roll RFID Scanner HSP is a smart reader that enables to read badges, NFC cards or RFID labels as simply as a bar code. It is a really user-friendly device.
If needed, you will find some more information about RFID Scanners here. And discover here how the Prox'N'Roll RFID Scanner is used for ski passes.
You just configure the smart reader according to cards data -number or text- you want to reach. It doesn't matter if it is a protocol serial number (UID), field contents or securized files: the smart reader will reach them all.
And that is all! The Prox'N'Roll RFID Scanner HSP is stand-alone to run and the computer receives data as if someone would type it on a keyboard. The computer sees the Prox'N'Roll RFID Scanner HSP as if it were a standard USB keyboard.
So, no need to install any driver. Moreover, already installed applications commonly run without changing: just put the cursor in the input field you want to see data arriving!
OEM version (no housing - bare card) is available. Please read the dedicated page.
Here is the presentation of the Prox'n Roll RFID Scanner HSP in video.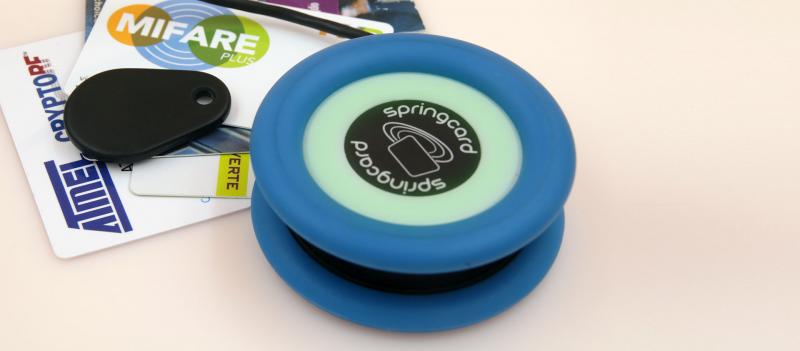 KEY FEATURES
No driver to install, no specific development to do

Supports up to 4 reading templates simultaneously

Directly powered by USB, cable included

Sober anti-skid housing

High luminosity LEDs - buzzer

To be set up with Windows software (MultiConf) or securised master badge
RoHS & WEEE compliant (environmental protection)
Standards
Carrier frequency: 13.56MHz

ISO 14443 (1, 2, 3 and 4, both type A and type B): Proximity Coupling Device (PCD)

ISO 15693 (1, 2, 3): Vicinity Coupling Device (VCD) or Base Station for RFID labels and tags

ISO 21481 (ECMA 352): the device is able to communicate with any NFC object running in card emulation mode
RF Bitrate
106kbit/s (ISO 14443, NFC-A & NFC-B), 212 or 424kbit/s (FeliCa, NFC-F), 26kbps (ISO 15693, NFC-V)
Supported cards/tags/labels
ASK CTS256/CTS512

ATMEL CryptoRF

Calypso (CD97, CD21, GTML, etc), Innovatron radio protocol "14443 B'"

FeliCa Lite, Lite-S (NFC Forum T3T)

HID iClass, Inside PicoTag (UID only)

Infineon SLE66 family

Innovision Jewel, Topaz (NFC Forum T1T)

NXP Mifare UltraLight, NTAG (NFC Forum T2T), Mifare Classic, Mifare Plus, Desfire, SmartMX...

NXP ICODE-SLI family

Texas Instrument my-d proximity

Texas Instrument my-d vicinity

ST MicroElectronics SR, SRI, SRIX families

ST MicroElectronics LR family

Thinfilm NFC Barcode

4 processing templates to fetch data from the cards (UID, stored data, APDU response...)
Host interface
USB 2.0 full-speed (12Mbit/s), compliant with USB 1.1 and 3.0

USB HID profile - keyboard emulation (no driver required)
Firmware upgrade
In-field, no physical action on the device using SpringCard FUU application and Atmel USB DFU driver
Configuration
In-field configuration using secured "master cards"

In-field configuration through USB using SpringCard MultiConf application
User manuals
Development manuals
Utilitaire
Softwares
Certifications