13.56 MHz frequency RFID and NFC Solutions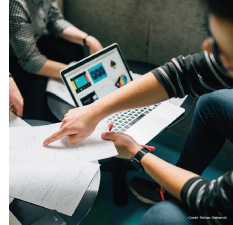 Start up entrepreneurs, developers, project managers, contactless solution purchasers, project owners, you are welcome to tell us about your ideas.
Freedom and simplicity are essential for the end-user experience. Together with our customers we develop solutions that meet this demands of simple and seamless experiences. The kind of technology used does not matter for the end-user: only the result counts.
That is why, whatever is your needs -security level, communication protocol, communication range related to environment and antenna, interface-: just ask! As experts in contactless solutions, we will combine technologies together -RFID and BlueTooth Low Energy for example- if needed.
Every day, our competent team work to imagine technical solutions to ensure your ideas become real projects.
Why choosing SpringCard as a partner?
Because we offer you more than just technical skills.
A High-quality customers service
The organisation of our client support is presented in detail here.
Agility
Contactless projects are complex and can't be carried out following one straight line. SpringCard's process is then agile. That is why our people are proactive, flexible and always looking for chances to improve their skills and performance at work.
High-quality guidance
We are proud of our 18 years in the field experience in 13.56MHz systems.
We have a strong expertise in the development of buried systems (most embedded Linux).
We design complete architectures around smart cards & smart objects, for the IoT world.
We ensure security for both authenticity and confidentiality of the transactions.
We are in the frontline of portable implementations for Android, iOs and Windows.
Being one step ahead
At SpringCard, we pay much attention to the user-experience: our devices are user-friendly and simple to integrate or develop.
Antoher key to our success is keeping a keen eye on the market and anticipating trends and needs.
Long-term way of thinking
Our products are modular: that means that a shared platform is the base of a products family. As scalable, interoperable products, they all enable fast development for our clients.
The compatibility of our new products with previous ones is important to us. So when we announce the end of life for some of them, the new ones have increased or updated specifications but same size and interface.
Confidentiality and loyalty
Thanks to our respect of professional confidentiality, we count major companies among our customers. New technologies are sensitive: innovative ideas should be protected and sometimes it is important to be the first one to create a service. Whatever the project is, our employees are dedicated, hard working and discrete.
Confidence and loyalty are key words in the relationships we build with our suppliers and our subcontractors. Our partnerships focus on closeness and long-term collaborations. This approach guarantees the quality of supply and facilitate continuous improvements.
Some of our clients