Our partner's projects are our projects: K2Corp's example
OUR PARTNER
K2Corp is a company operating in the interactive terminals area, created in November 2005. Their mission is to design and manufacture interactives terminals for key accounts.
They value customer support and efficiency.
PROJECT CHALLENGES
A store chain has asked K2Corp to design a vault secured by a card and a code.
This system would allow employees to drop the content of cash registers easily and in a secured way.
The smart vault is composed of a system that collects informations such as the badge number of the employee who dropped the cash register but also the amount of money that was dropped.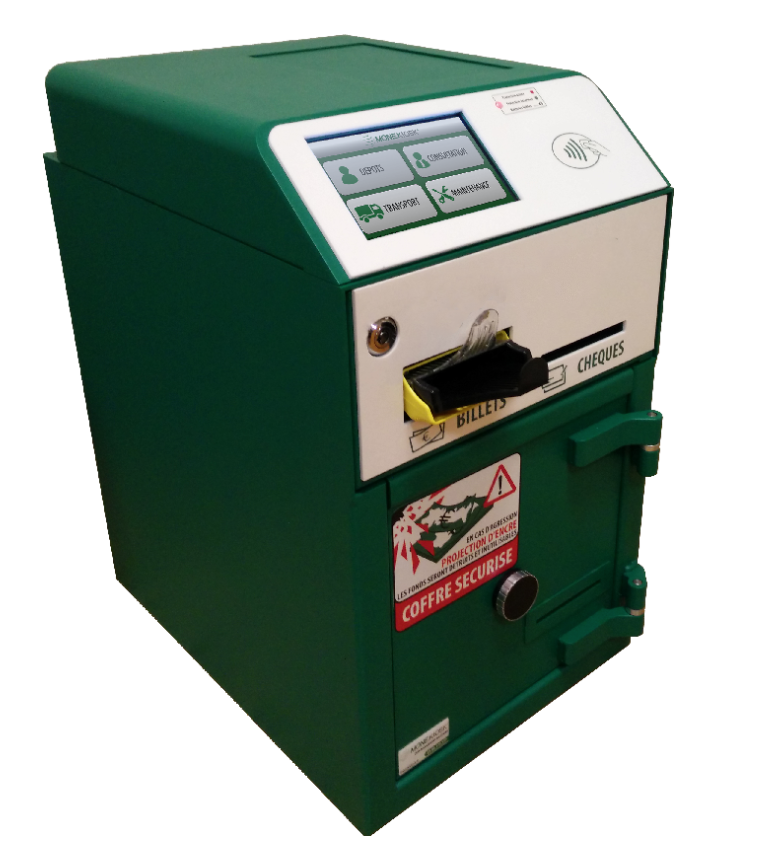 These informations allow the customer to contact the cash transportation companies in a more efficient way.
If the vault is empty it is useless for the cash transportation company to collect the money but when the vault is filled up faster than expected the customer knows about it and is able to contact the cash transportation company quickly.
SECURITY, RELIABILITY, EFFICIENCY
This vault is secured by a card reader designed by SpringCard. The product used implemented in this reader is the OEM Prox'n Roll.
This product was chosen by K2Corp because they wanted a reliable product for their client and our Prox'n Roll was respecting all of their requirements.
K2Corp is also able to customise the visual signage of the Prox'n Roll to comply with the customer requirements.
The LED signage of the Prox'n Roll improves the user experience by highlighting (thanks to LED's colour change) the different states of the product : standby mode, authorised access, unauthorised access.
Furthermore, the OEM Prox'n roll is compliant with the ISO 14 443 norm which means that it can read several cards successively.
The innovation that this product represents is the possibility to collect informations about the vault content and the identification of employees having access to this vault. These informations would not have been collected without an OEM SpringCard product.
WHY SPRINGCARD?
Mr Pascal Rolin, K2Corp CEO, has said that he has chosen SpringCard for this project because of the need for safety expressed by the customer. He also choose us because the way of working at SpringCard is close to the way of working at K2Corp.
The customer support, the search for a good solution and the efficiency are important values at K2Corp and at SpringCard.
The smart vault is implemented in several stores and the customer feedbacks are positive.
The vault was presented at the Paris Retail Week Show in September 2017 and several other companies were interested in this product, this leads to think that other markets could be won by the smart vault.
A SUCCESSFUL PARTNERSHIP
The strength of the SpringCard-K2Corp partnership is the highlight of security as a major issue, the know-how and the continuous customer support.
We thank K2Corp for their trust and hope that other projects will bring us together again !
Published on 1/18/2018