SpringCard is now a member of NFC Forum !
The magnetic field 13.56 MHz is the technical basis of three different uses, the classic use reader + card, the RFID use (for traceability and inventory applications) and the peer-to-peer use. These three uses are united under one identified label: NFC, which means near field communication.
The NFC Forum
The NFC Forum is a non-profit industry association whose membership draws from all parts of the NFC ecosystem.
This ecosystem groups every actor from the NFC technology, they are issuers, managers, applications developers, SIM card, NFC IC manufacturer as well as network operators.
Working within the framework of the NFC Forum, member organizations share their expertise around development, application, and marketing to offer interoperable and ergonomic solutions, which are relevant for the consumer.
A new member: SpringCard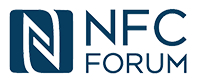 SpringCard has for several years an undeniable technical expertise around 13.56 MHz communication and NFC.
By joining the NFC Forum, SpringCard will enhance its mastery of the technology and will contribute to its promotion in B2B and B2C uses.
For our customers, it will materialise by the availability of more examples showing the interaction between SpringCard products and smartphones or other NFC objects, the constant follow-up of evolutions and innovations introduced in NFC Forum specifications.
That is also the creation of new opportunities by affixing of the "N-Mark" of the NFC Forum on products, a small detail that attracts the attention of some decision-makers.
By cooperating with other actors from the area on the development of new use-cases like the improvement of interoperability specifications, SpringCard ensures to its customers a preferred information on upcoming evolutions.
Published on 2/15/2018